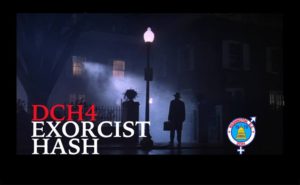 Visit sites of the real exorcism in Hyattsville that inspired the movie! PLUS, you'll visit a brewery and a chocolate factory, dueling grounds, ice cream truck graveyard, and go-karts! Come in your best puke-soaked pajamas.
Start: 2pm Community Forklift, 4671 Tanglewood Dr, Hyattsville/Edmonston/Bladensburg.
Beer check at DC Brau, drunk driving at Go Karts (4300 Kenilworth), On After at Franklin's brewpub (5123 Baltimore Ave, Hyattsville).
Hares:  Rawhide (minus loyal hash hound Leg-Shagger) and mystery hares
Phone: 240.461.3390